Conseiller en Immobilier, Marchand des biens, recherches,
renseignements et aide à l'achat de vos biens immobiliers
Intermédiaire de vôtre prêt hypothécaire B&B on the upstream part of the Maas M9642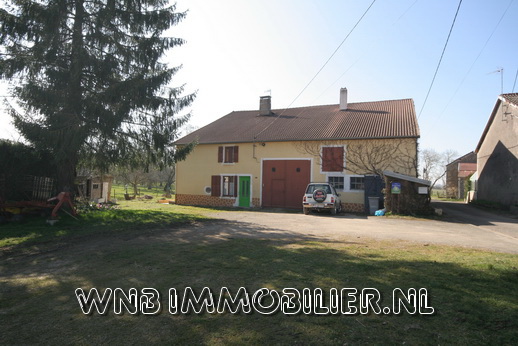 Situation: a cozy farmhouse renovated to B&B situated along little stream just after the source of the River Maas. For the horse lovers there it is possible to rent 53404m² of meadows with two barns on it.
Classification: Entrance, kitchen 31m², living room 59m², conservatory 21m², toilet, bathroom of the owner bath/ shower/ washbasin, boiler room, barn 25m², stable 91m², attic 116m².
On the floor: 3 guest rooms each with a shower and toilet 24, 15 and 24m², small kitchen 10m², two rooms of the owner 22 and 38m². Tool shed for the house.
Connections: Septic, water, light and central heating on wood and fuel oil.
Area: 1360m²
Special notes: This farmhouse has been renovated into a beautiful B&B with three guest rooms with private bathrooms with shower, toilet and washbasin. In the building there is the a possibility of extensions with a few guest rooms.
The large lounge also serves as common area. From the lounge one can go in the spacious conservatory in and then to garden, which is on the upper stream of the Maas River. The river here is still not greater than a very small stream that quickly became the great river Maas.
The house is equipped with all modern conveniences, such as a dual central installation on both woods (cheap burning) as fuel. The property has a septic tank, but will be connected in a few years to the village's sewer.
The farm is situated on a very nice place in the village, with a small square at the front with views over the quiet streets and behind a free view. For the horse lovers there it is possible to rent 53404m² of meadows with two barns on it. Price à year €1.500,= for the barns and €150,= for one Ha.
Price € 196,000,=
Including brokerage ,
Excluding notary and conveyance costs
Reference Number M9642
Retour

WNB Immobilier en WN-Bâtiment Siret: 434 899 886 000 23, No TVA Intracommunautaire: FR0E 434 899 886 Gérant Walther Barkmeijer, Conseiller en Immobilier, Marchand des biens, recherches, renseignements et aide à l'achat de vos biens immobiliers. Intermédiaire de vôtre prêt hypothécaire. Tous travaux de rénovations et restaurations de votre maison.
Postadres:12 Rue de la Brasserie, 70500 Bousseraucourt, Téléphone: +33 (0) 608 999 712, Email: walther@wnbimmobilier.nl
Andere dorpen en steden in de omgeving: Vauvillers - Aboncourt-Gesincourt - Aisey-et-Richecourt - Augicourt - Bains-les-Bains - Barges - Besançon - Bétaucourt - Betoncourt-sur-Mance - Blondefontaine - Bougey - Bourbonne-les-Bains - Bourbévelle - Bousseraucourt - Buffignécourt - Cemboing - Cendrecourt - Chaumont - Chauvirey-le-Châtel - Chauvirey-le-Vieil - Corre - Epinal - Gevigney-et-Mercey - Grey - Gy - Jonvelle - Jussey - Lambrey - Langres vestingstad - Magny-les-Jussey - Montcourt - Montigny-les-Cherlieu - Montureux-les-Baulay - Noroy-les-Jussey - Ormoy - Ouge - Raincourt - Ranzevelle - Rosières-sur-Mance - Saint-Marcel - Tartécourt - Vauvillers - Venisey - Vernois-sur-Mance - Vesoul - Villars-le-Pautel - Vitrey-sur-Mance - Vougecourt - Xertigny - Vosges - Haute-Marne - Haute-Saône - Monthureux-sur-Saône - Vittel - Contrexeville - Lure - Melisey - Genève - Champlitte - Belfort - Montbeliard - Luxeuil-les-Bains - Saulx - Besançon - St.Loup-sur-Semouse - Loup - Saint - Semouse - Combeaufontaine - Fay-Billot - Chalindrey - Grignoncourt - Regnevelle - Demangevelle - Pont-du-Bois - Polaincourt - Martinvelle - Malaincourt - Melincourt - Anchenoncourt - Trois-Provices - Pays - France - Dijon - Lyon - huizen-in-frankrijk - onroerendgoed - immobilier - franshuis - frankrijkhuis - huisinfrankrijk - huis-in-frankrijk - py_immobilier - huisje - boerderij - te-koop - tekoop - koop - koopwoning - koophuis - huiskopen - huis-kopen - kasteel - château - chateau - maison - eglise - landhuis - landhuizen - campagne - maisondecampagne - immoboulevard - terreinen - terrein - terain - terainaconstruir - terain-a-construire - RESIFRANCE - immo-ileverte - l'ile-verte - immoboulevard - huisfrankrijk.nl -