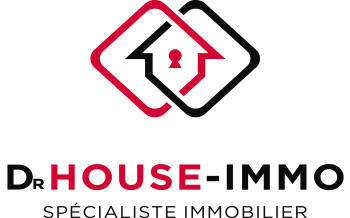 Conseiller en Immobilier, Marchand des biens, recherches,
renseignements et aide à l'achat de vos biens immobiliers
Intermédiaire de vôtre prêt hypothécaire
A beautiful villa with pool M9648-11404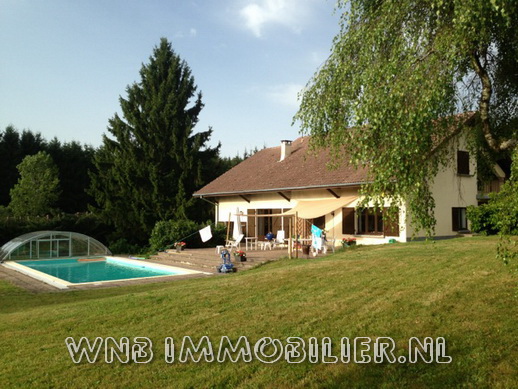 Situation: A beautiful detached villa with great garden and swimming pool in the sector of Remiremont.
Classification: Entrance, spacious living room 46m², equipped kitchen 13m², bathroom bath/ 2 sinks/ bidet/ toilet, room 13m², room 13m². Floor: Mezzanine 10m², room 10m², room 26m², room 16m² with balcony, bathroom with shower/ washbasin/ bidet/ toilet, storage room 7m². Garage 20m², Carport 52m², pump room for pool, wine cellar 14m².
Connections: Water, electricity,
Septic tank, heating electric.
Area : 4268m²
Special notes:
A beautiful villa dating from 1984 with wooden details such as exposed-beam ceilings, located in the beautiful countryside of the Vosges in about half an hour from the winter sports areas La Bresse and Gérardmer.
The house is situated on a lovely, spacious and enclosed plot with old trees.
The house is equipped with all modern conveniences such as a fully-resourced kitchen, floor heating in the living room and two luxury bathrooms.
From the spacious living room with open fireplace, one can go to the spacious terrace with a nice view of the garden and from there you can then take a dip in the large pool of over 11m in length. So a swim is not a problem. The swimming pool is equipped with a mobile cover, so that you can swim indoor or outdoor and it meets the French standards of security in the meantime.
In the winter months when the pool is frozen, there are ample opportunities to enjoy winter sports. The house offers space for up to 10 persons with five rooms. Next to the house is a large carport for 4 cars. An absolute must this villa in a quiet area, with the possibility of walking and cycling trips. In the summer Gérardmer is also a magnificent nature reserve.
About 13km in Remiremont you can shop and make use of the TGV high-speed train witch will take you in about 3 hours to Paris.
In short, all ingredients for beautiful holidays or permanent habitation.

Price € 250,000,=
Excluding notary and convincing costs
Reference M9648-11404
Energie label: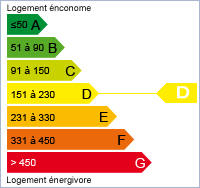 CO² uitstoot: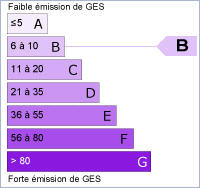 Retour

WNB Immobilier en WN-Bâtiment Siret: 434 899 886 000 23, No TVA Intracommunautaire: FR0E 434 899 886 Gérant Walther Barkmeijer, Conseiller en Immobilier, Marchand des biens, recherches, renseignements et aide à l'achat de vos biens immobiliers. Intermédiaire de vôtre prêt hypothécaire. Tous travaux de rénovations et restaurations de votre maison.
Postadres:12 Rue de la Brasserie, 70500 Bousseraucourt, Téléphone: +33 (0) 608 999 712, Email: walther@wnbimmobilier.nl
Andere dorpen en steden in de omgeving: Vauvillers - Aboncourt-Gesincourt - Aisey-et-Richecourt - Augicourt - Bains-les-Bains - Barges - Besançon - Bétaucourt - Betoncourt-sur-Mance - Blondefontaine - Bougey - Bourbonne-les-Bains - Bourbévelle - Bousseraucourt - Buffignécourt - Cemboing - Cendrecourt - Chaumont - Chauvirey-le-Châtel - Chauvirey-le-Vieil - Corre - Epinal - Gevigney-et-Mercey - Grey - Gy - Jonvelle - Jussey - Lambrey - Langres vestingstad - Magny-les-Jussey - Montcourt - Montigny-les-Cherlieu - Montureux-les-Baulay - Noroy-les-Jussey - Ormoy - Ouge - Raincourt - Ranzevelle - Rosières-sur-Mance - Saint-Marcel - Tartécourt - Vauvillers - Venisey - Vernois-sur-Mance - Vesoul - Villars-le-Pautel - Vitrey-sur-Mance - Vougecourt - Xertigny - Vosges - Haute-Marne - Haute-Saône - Monthureux-sur-Saône - Vittel - Contrexeville - Lure - Melisey - Genève - Champlitte - Belfort - Montbeliard - Luxeuil-les-Bains - Saulx - Besançon - St.Loup-sur-Semouse - Loup - Saint - Semouse - Combeaufontaine - Fay-Billot - Chalindrey - Grignoncourt - Regnevelle - Demangevelle - Pont-du-Bois - Polaincourt - Martinvelle - Malaincourt - Melincourt - Anchenoncourt - Trois-Provices - Pays - France - Dijon - Lyon - huizen-in-frankrijk - onroerendgoed - immobilier - franshuis - frankrijkhuis - huisinfrankrijk - huis-in-frankrijk - py_immobilier - huisje - boerderij - te-koop - tekoop - koop - koopwoning - koophuis - huiskopen - huis-kopen - kasteel - château - chateau - maison - eglise - landhuis - landhuizen - campagne - maisondecampagne - immoboulevard - terreinen - terrein - terain - terainaconstruir - terain-a-construire - RESIFRANCE - immo-ileverte - l'ile-verte - immoboulevard - huisfrankrijk.nl -