Situation: A beautiful free-standing, authentic house with beautiful old details
and renovated with great quality.
Layout: Entrance with stone spiral staircase, living room with fireplace 25m², equipped kitchen 25m², hall 8m², bathroom shower / sinks / wc.
1st floor: room with fireplace 30m², bathroom shower / sink / toilet, room 18m².
2nd floor: room 28m², room 25m².
Attic floor: room 17m², room 17m². Double cellar with barrel vault 55m². Large barn with stable and workshop 191m², building with 3 boxes and a covered terrace of 40m².
Connections: water, electricity, septic, central heating on propane with buried tank.
Plot surface: 4536m²
Living area: 186m²
Outbuildings: 240m²
Particularities:
This characteristic maison "la tour" takes its name from the tower in which the stone spiral staircase revolves from the beautiful vaulted cellars to the attic. In the house the three antique, stone-built chimneys have been preserved. However, the building has been completely renovated while retaining its character. There is a central heating on propane gas with buried tank installed. The whole building is insulated and equipped with double glazing. The kitchen has been replaced by a fully equipped custom fitted kitchen with all amenities. There are also two bathrooms with a toilet and a total of 6 bedrooms, two of which are located on the attic floor.
Actually the house is also a kind of tower with two rooms per floor. Next to the house is a large barn with an old stable, workshop and a garage.
Oapposite the house is another building with three boxes and a spacious covered terrace on the south for the necessary shade in warm weather. The house is situated on a large territory. On whish a part is constructible.
There are a total of 5 terraces, one behind in the garden with a build-up swimming pool. So at any time of the day there is a terrace in the sun or in the shade.
The village has no shops anymore, but at 4 km in Amance there are a few shops and at about 25 km you will find the province capital Vesoul with all amenities.
The area is beautiful and well suited for long walks or bike rides.
A beautiful country house where you can soak in and enjoy French life.
Price € 252,000, =
exclusive notary and transfer costs
Reference number M9769-14903
Energy label: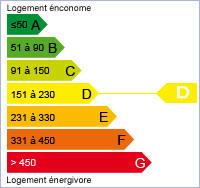 CO2 emissions: