Situation: Renovated farmhouse dating from 1848 located on a beautiful square with a beautiful view without direct neighbours.
Layout: Ground floor: Kitchen 18 m² with fridge/freezer, stove and new dishwasher, bathroom shower/ washbasin 9m², toilet, living room 25 m², conservatory 8m², garage 27 m², covered terrace 10m², terrace 10m² and large garden.
First floor: Bedroom 14 m², bedroom 15 m², master bedroom 25 m², lounge 15 m². Double cellar with barrel vault 35m²
Connections: Water, electricity, central heating on fuel oil.
Plot area: 1025m²
Living area: 130m²
Dependencies: 27m²
Details: A cosy former farm. The property is immediately habitable and situated in a small but nice village in the Haute-Saône, sector Vauvillers, just south of the Vosges.
The farm has been renovated with a sense of old details. In front of the house is a nice cosy square with a restaurant and wagon rental. On the left is a lavoir, an old washing place. From the living room you reach the beautiful covered terrace at the back, followed by the spacious garden with old trees. Next to the terrace is a conservatory with a nice views over the hills.
The latter conservatory is also accessible from the kitchen.
Next to the building is the Town Hall, so quiet neighbours. In short: it is a very attractive house in a beautiful location. In autumn you can hear the red deer bellow from within the house and garden, which is unique! The house has beautiful antique details such as a beautiful stone fireplace and oak fitted kitchen, typical of this region. Many beautiful old details have been preserved or restored.
The building is equipped with a central heating system on domestic heating oil, but there is also a cosy fireplace in the living room.
A must in a beautiful walking area..
Price € 110.000,=
Including brokerage to be payed by the seller.
Reference number M9880-41561
Energy label: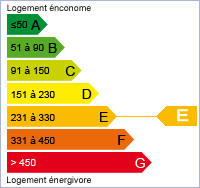 CO2 emissions: