Situation: A beautifully renovated house along a narrow village street and canal with plenty of space and beautiful views.
Layout:
| | |
| --- | --- |
| Entrance couloir | 15.00 m² |
| Sejour avec belle vue | 17.00 m² |
| cuisine team | 14.00 m² |
| Cour couverte and plaques translucid | 12.00 m² |
| Toilette separate | 2.00 m² |
| celier | 12.00 m² |
| 1st FLOOR | |
| Salle des Bains shower/sink/wc | 5.00 m² |
| Buanderie | 8.00 m² |
| mezzanine | 4.00 m² |
| couloir | 6.00 m² |
| chambre | 16.00 m² |
| Entrance chambre | 13.00 m² |
| chambre | 21.00 m² |
| 2nd FLOOR | |
| chambre | 16.00 m² |
| Grenier ammenagé | 31.00 m² |
Connections: Water, electricity. Village sewer (last one to be modified).
Plot area: 110m²
Living area: 127m²
Dependencies: 25m²
Details: A cosy village house with an unexpected amount of space. contains 6 rooms, 3 bedrooms and a spacious living room at the front with a view over the canal and the river below. Behind the living room is the completely new kitchen including appliances. The living area is 127m² over three floors. There is no garden, but there is a large covered terrace with translucent plates. As a result, a beautifully light space has been created, so that the kitchen also has a beautiful light. The house is heated with two wood burning stoves and some electric radiators.
In front of the house is a beautiful stone bench. There you have a view over the canal where boats still pass regularly, so a pleasant view. Higher up the other bank is the village with another grocer/ bakery, cafe and pharmacy. All other shopping and medical facilities can be found in the spa town of Bains les Bains, about 6 km away. High above the village are the ruins of the old château. A little further, but still in the village, there is a marina, where you can also rent boats. A nice and lively village.

On the first floor of the house are a spacious landing and two bedrooms and the completely new bathroom with toilet.
Above that you enter the spacious attic that has been made habitable. A quote has been requested to make a roof terrace. We can inform you about this if you wish. A third bedroom has been made in the attic, which can be divided into two if necessary because there are already two windows.
It is an excellent house, ideally suited for permanent living without the obligatory maintenance of the grounds or garden.
Grab your chance!
Price € 65,000
Including brokerage costs sellers
Reference number M9884-42362
Energy label 2020: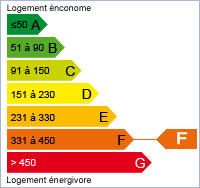 CO² emissions 2020: