Situation: A beautiful, detached country house with stables, barns and a large garden and orchard
Layout: Kitchen 16m² with fireplace, living room 22m² with garden doors, toilet, room 19m², bathroom toilet/bath/sink/washing machine connection 6m², on the first floor one room 15m².
DEPENDANCES: Attached barn 54m², utility room 10m², attics 120m².
cellar with barrel vault 16m², cellar under terrace 14m² covered terrace with nice view 14m². Barn next to the house 69m², stable 60m²
Connections: water, electricity, septic on the sewer
Plot area: 5727m²
Living area: 112m²
Dependances: 227m²
Details: This beautifully renovated former farm still has many authentic details, such as a beautiful natural stone fireplace in the kitchen and fireplaces in the living room and room on the ground floor.
There are 5 habitable rooms including 3 bedrooms, a kitchen, bathroom and toilet. In the barns, but certainly also in the gigantic attics, there are many possibilities for expansion. From the spacious living room you walk through the garden doors to the sun-drenched terrace and then to the large orchard, with a beautiful view of the lower landscape and the village. Under the terrace is a rainwater reserve of 12,000 litters. To the right of the house are the remains of an old forge, the basement of which is still intact.
The plot area is 5727 m². On the spacious terrace is a small building that has been adapted into a covered terrace with a cellar below.
A beautiful country house along a quiet village street with no traffic worth mentioning.
Price € 150,000.
Including brokerage fees for sellers
Reference number M9910-59025
Energy label: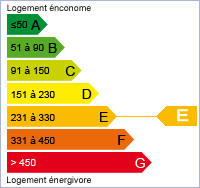 CO² emissions: