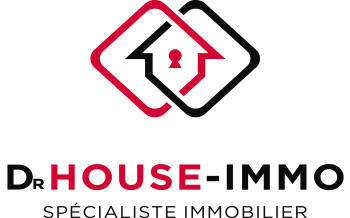 Conseiller en Immobilier, Marchand des biens, recherches,
renseignements et aide à l'achat de vos biens immobiliers
Intermédiaire de vôtre prêt hypothécaire
A beautifully renovated farmhouse with gite m9813-19329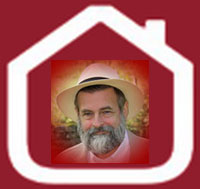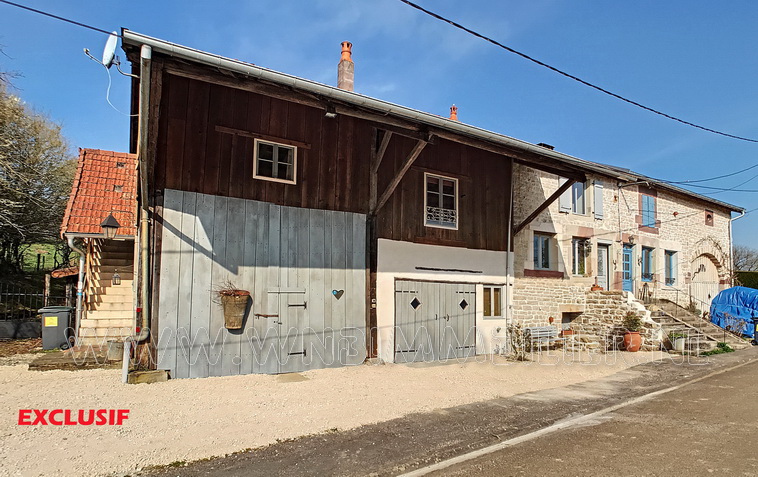 Situation: A beautifully renovated old farmhouse with large workshop, gite (guestrooms) and spacious garden with swimming pool.
Layout: HOUSE Garage 18m², entrance, washing machine room 4m² toilet, fitted kitchen / dining room 23m², lounge 26m² with French doors, loft 9m² Floor: bathroom bath / shower / sink, toilet, Bedroom 16m². 80m² workshop with toilet and sink, basement with technical installation.
GÎTE: Entrance hall, bedroom 15m² fitted kitchen / living room 33m², toilet, bathroom with washing machine and dryer, bedroom 29m², bedroom 14m².
Connections: Water, electricity, septic and heat pump
Plot area: 1171m²
Living area: 150 m²
DEPENDANCES: 100 m²
Details: Located along a quiet village road that leads to the forest, this authentic, renovated farmhouse with a beautiful, large gite with 3 spacious bedrooms, living room with kitchen and bathroom. The gite is situated on the first floor of the former barn, but a walkway has been created at the rear, which provides access to the garden with the swimming pool for pleasant cooling. The gite is always well occupied with an average turnover of between 6,000 and 10,000 euros. It should be noted that opening times are limited to the summer, so more sales can be generated by also renting out during the autumn and winter holidays.
The owner's home is on the right of the gite and has been beautifully renovated. There is a spacious fitted kitchen and a light living room with doors to the garden.
Upstairs a spacious bedroom and bathroom.
Under the gîte part are the garage and a large workshop. The entire building has central heating through a professional heat pump and a large hot water reserve that provides the system with a buffer. It is a spacious home with unprecedented opportunities in a beautiful area, also known as the Tuscany of France. The hinterland is partly wooded, interspersed with meadow and fields. A beautiful rolling landscape.
There is the possibility to buy a nice good running nature camping with 25 places and two washrooms, which is located just outside the village and is only for sale with the house, so not separately. Information by email walther@wnbimmobilier.nl mentioning Camping.
Price € 232,000
incl. commission.
Reference number M9813-19329
Energy label: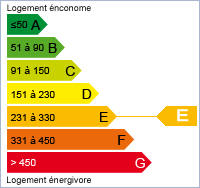 CO² emissions: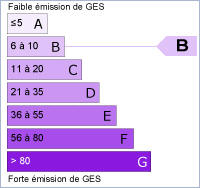 Retour

WNB Immobilier en WN-Bâtiment Siret: 434 899 886 000 23, No TVA Intracommunautaire: FR0E 434 899 886 Gérant Walther Barkmeijer, Conseiller en Immobilier, Marchand des biens, recherches, renseignements
et aide à l'achat de vos biens immobiliers. Intermédiaire de vôtre prêt hypothécaire. Tous travaux de rénovations et restaurations de votre maison.
Postadres:12 Rue de la Brasserie, 70500 Bousseraucourt, Téléphone: +33 (0) 608 999 712, Email: walther@wnbimmobilier.nl
Nord-Sud Immo, DR HOUSE IMMO Siège social 92100 Boulogne Billancourt. Carte no CPI 9201 2018 000 029 521 délivrée par la CCI Paris Il de France le 29/05/2018
Andere dorpen en steden in de omgeving: Vauvillers - Aboncourt-Gesincourt - Aisey-et-Richecourt - Augicourt - Bains-les-Bains - Barges - Besançon - Bétaucourt - Betoncourt-sur-Mance - Blondefontaine - Bougey - Bourbonne-les-Bains - Bourbévelle - Bousseraucourt - Buffignécourt - Cemboing - Cendrecourt - Chaumont - Chauvirey-le-Châtel - Chauvirey-le-Vieil - Corre - Epinal - Gevigney-et-Mercey - Grey - Gy - Jonvelle - Jussey - Lambrey - Langres vestingstad - Magny-les-Jussey - Montcourt - Montigny-les-Cherlieu - Montureux-les-Baulay - Noroy-les-Jussey - Ormoy - Ouge - Raincourt - Ranzevelle - Rosières-sur-Mance - Saint-Marcel - Tartécourt - Vauvillers - Venisey - Vernois-sur-Mance - Vesoul - Villars-le-Pautel - Vitrey-sur-Mance - Vougecourt - Xertigny - Vosges - Haute-Marne - Haute-Saône - Monthureux-sur-Saône - Vittel - Contrexeville - Lure - Melisey - Genève - Champlitte - Belfort - Montbeliard - Luxeuil-les-Bains - Saulx - Besançon - St.Loup-sur-Semouse - Loup - Saint - Semouse - Combeaufontaine - Fay-Billot - Chalindrey - Grignoncourt - Regnevelle - Demangevelle - Pont-du-Bois - Polaincourt - Martinvelle - Malaincourt - Melincourt - Anchenoncourt – Saulxures - Montigny le roy - Bleurville - Laferté – Laferté_sur_amance – Morimont – Ouges - Anrosey - Langres - Trois-Provices - Pays - France - Dijon - Lyon - huizen-in-frankrijk - onroerendgoed - immobilier - franshuis - frankrijkhuis - huisinfrankrijk - huis-in-frankrijk - py_immobilier - huisje - boerderij - te-koop - tekoop - koop - koopwoning - koophuis - huiskopen - huis-kopen - kasteel - château - chateau - maison - eglise - landhuis - landhuizen - campagne - maisondecampagne - immoboulevard - terreinen - terrein - terain - terainaconstruir - terain-a-construire - RESIFRANCE - immoboulevard - huisfrankrijk.nl –